NST Weekly Digest - Corporate Governance

Posted:

A week ago
Hello People,
Welcome to NST Weekly Digest, a platform where we give a run-down of our week's post to keep you up to date on articles, news, and other posts we shared in the last one week.
This week's theme is 'Corporate Governance'. We looked at a few corporate governance issues ranging from conflict of interest, succession planning, accountability, to ethics. Other issues not covered in this week's digest include…. The consideration of all these issues in corporate governance deliberations, planning and implementation will go a long way in ensuring a successful outcome. Our article on succession planning is a must-read, don't miss it!
So, what is Corporate Governance?
Corporate Governance refers to the way in which companies are governed and to what purpose. It identifies who has power and accountability, and who makes decisions. It is, in essence, a toolkit that enables management and the board to deal more effectively with the challenges of running a company. Corporate governance ensures that businesses have appropriate decision-making processes and controls in place so that the interests of all stakeholders (shareholders, employees, suppliers, customers, and the community) are balanced. Interesting? Yeah!
Below are the highlights of this week's posts. Please click on the various links for the full story and to visit our website for links to learning opportunities on corporate governance.
Contents
Monday Motivation

Tuesday Exhortation

Article of the Week

Midweek Tonic

Thank God Its Friday (TGIF)
Monday Motivation: Are your firm's yin and yang properly aligned?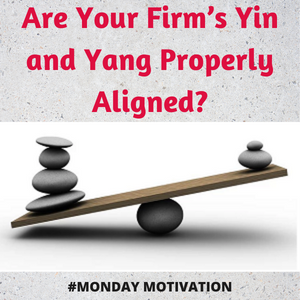 "Governance and leadership are the yin and the yang of successful organizations. If you have leadership without governance, you risk tyranny, fraud, and personal fiefdoms. If you have governance without leadership, you risk atrophy, and bureaucracy" – Mark Goyder
Is your organization's governance and leadership properly aligned?
Tuesday Exhortation: Conflict of Interest - A Corporate Governance Time-Bomb!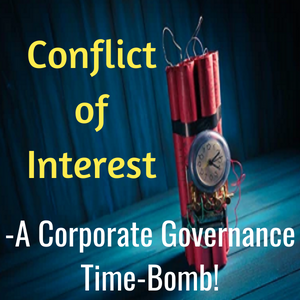 Avoiding conflicts of interest is vital. A conflict of interest within the framework of corporate governance occurs when an officer or other controlling member of a corporation has other financial interests that directly conflict with the objectives of the corporation. For example, a board member of a solar company who owns a significant amount of stock in an oil company has a conflict of interest because, while the board he or she serves on represents the development of clean energy, they have a personal financial stake in the success of the oil industry. When conflicts of interest are present, they deteriorate the trust of shareholders and the public while making the corporation vulnerable to litigation. – (Jane Muir)
How do you resolve conflict of interest in your organization? Follow this link to learn more about managing conflict of interest.
Article of the Week: Succession Planning - a Sine Qua Non of Effective Corporate Governance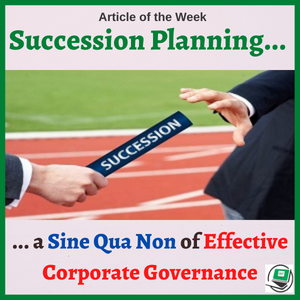 Business succession planning is the process of deciding who will take over your business in the future when you retire or the unexpected happens. This process is still relevant for smaller, family-run businesses to make sure the business can continue to run smoothly. I discovered that in Nigeria, not many thoughts are given to this. All that the business owner wants is immediate success without considering the issue of succession. Yet, success without successor is suicide...read more:
Midweek Tonic: Accountability is the Bedrock of Corporate Governance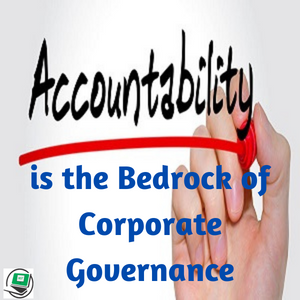 Accountability is necessary for effective corporate governance. From the top-level executives to lower-tier employees, each level and division of the corporation should report and be accountable to another as a system of checks and balances. Above all else, each level of the corporation is accountable to the shareholders and the public. Without accountability, one division of the corporation might endanger the success of the entire company or cause stockholders to lose the desire to continue their investment.
What's your organizations attitude towards accountability? Follow this link to learn the place of accountability in corporate governance
Thank God Its Friday (TGIF): Ethics – A Necessity in Corporate Governance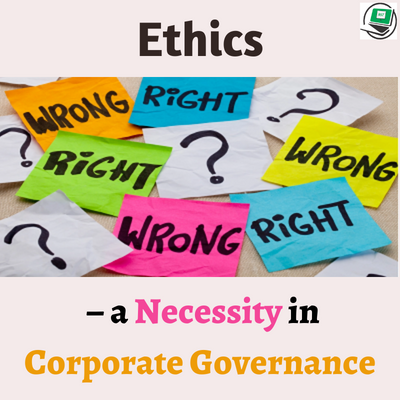 Members of the executive board have an ethical duty to make decisions based on the best interests of the stockholders. Further, a corporation has an ethical duty to protect the social welfare of others, including the greater community in which they operate. Minimizing pollution and eschewing manufacturing in countries that don't adhere to similar labor standards as the U.S. are both examples of a way in which corporate governance, ethics, and social welfare intertwine.
Are you running an "ethical" organization or is it just all about profit for you?
Follow this link to learn how to develop and maintain ethical standards in your organization.
Download Our 4th Quarter Training Guide
The 4th quarter 2022 is around the corner. Download our 4th Quarter Conferences and Training Guide to get an overview of training opportunities for the quarter.
End of the Year Buy and Win Promo
Have you heard about our on-going buy and win promotion? Don't miss out. Be one of the lucky winners! Learn about it here: https://www.nigerianseminarsandtrainings.com/promo
Till we come your way next week,
All the best!
Related News
Economic Associates Hosts Conference on Nigeria's Economic Outlook

Economic Associates (EA) will host a one day conference on Nigeria's Economic Outlook on Thursday, 29 September 2016 at Radisson Blu Hotel and Anchorage, Ozumba Mbadiwe Street, Victoria Island, Lagos. According to Dr. Ayo Teriba, the MD/CEO of Economic Associates, the conference will give an

[Read more]

Posted: 7 years ago

The Chartered Institute of Bankers of Nigeria holds Annual Bankers Night

The Chartered Institute of Bankers of Nigeria (CIBN) Lagos state branch is set to hold its annual Bankers' Nite at the Federal Palace Hotel, Victoria Island, Lagos on August 11, 2016 The Lagos Bankers' Nite is an annual dinner organized by the Lagos branch of CIBN. According to the or

[Read more]

Posted: 7 years ago

Gain Report: Government of Nigeria Signed Plant Variety Protection Bill into Law– June 28 2021, Nigeria

Nigeria is the largest economy in Africa with a population projected to reach 219 million in July 2021. Agriculture contributes close to 22% of the National Gross Domestic Product (GDP) as of first quarter, 2021. The role of the private sector has been vital to transitioning and growing Nigeria&rsqu

[Read more]

Posted: 2 years ago